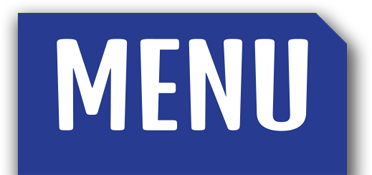 Served on your choice of Hoagie.
Sandwiches Include Lettuce & Tomato.
#1 ITALIAN
Pepperoni, Salami, Capicola & Provolone, O&V. $6.99
#2 TURKEYVILLE SMOKER
Smoked Turkey Breast & Swiss, Honey Mustard, Onions. $6.99
#3 HAM & SWISS
Hormel Old Tyme Ham & Wisconsin Swiss, Mayo. $6.99
#4 MEAT AXE
Smoked Turkey, Ham, Salami & Swiss, Mayo. $6.99
#6 CHICKEN BACON RANCH
Chicken Breast, Bacon Bits, Provolone, Ranch, Onions. $6.99
#10 TUNA MELT
Special Tuna Salad, Provolone & Pickles. $6.99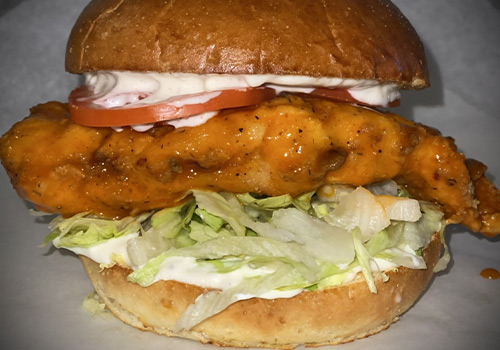 Served on Hawaiian Bun.
Sandwiches Include Lettuce & Tomato.
The Mighty Buffalo
Deep fried to order and doused with our homemade buffalo sauce, served with blue cheese dressing. $8.50
The Big Joe
Deep Fried to order with mayo, BBQ sauce, bacon bits, pepperjack cheese & onions. $8.50
The Sawmill
Rubbed with a sweet & smokey spice blend. Grilled and served with crisp bacon slice, cheddar cheese, onions & our special BBQ ranch. $8.25
The Spring Thing
Grilled & served with sweet pepper cream cheese, mayo & cucumbers. $8.25
The Swamp Thing
Rubbed with Louisiana cajun spice, grilled & served with chipotle mayo, caramelized onions, red onions & cheddar cheese. $8.25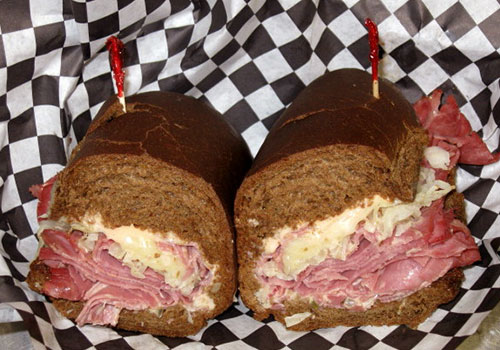 Sandwiches Include Lettuce & Tomato Except the Reuben & French Dip.
#7 Paul's Favorite
Homemade meatloaf served on a hawaiian bun with sweet peppadews, cheddar cheese & mayo. $7.25
Lumberjack Portion
Double Meatloaf on your choice of hoagie. $8.50
#8 Sorry Babe
Roast beef, crisp bacon & blue cheese dressing served on a Hawaiian bun. $8.25
#9 The Shore Lunch
Our walleye filet, deep fried to order with tartar sauce on your choice of hoagie. $9.25
#11 The REUBEN Sub
Corned beef, 1000 Island, sauerkraut & Swiss cheese on a rye hoagie. $8.25
#13 The French Dip
Full 1/4 lb. of roast beef with Swiss cheese & Au Jus served on a french hoagie. $8.25
#14 The Honeycrisp Melt
Honeycrisp apple slices, sweet pepper cream cheese, provolone, red onions, western dressing served on your choice of hoagie. $7.50
#15 The GYRO
Beef & lamb gyro meat on a soft pita with lettuce,tomato, red onion & tzatziki sauce. $8.25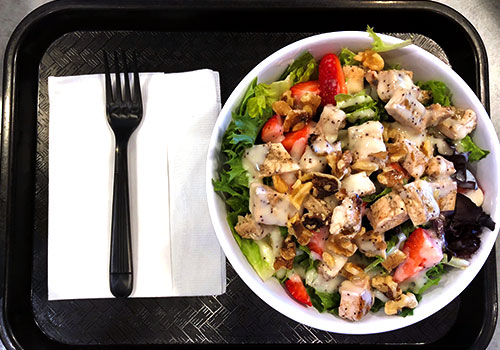 Chicken Caesar Salad
The essential classic, hand tossed to order, topped with our 1/4 lb. Grilled Chicken Breast. $8.25
Caesar Salad
Romaine, shredded parmesan, croutons & Cardini's Caesar dressing. $7.25
Chicken & Strawberries
On mixed greens with walnuts & poppy-seed dressing. $8.25
Taco Salad
With Blue Ox famous chili in a tortilla cup, cheddar cheese, sour cream & salsa. $8.25
Power Salad
Spinach, spring greens, raspberry vinaigrette, feta, craisins, red grapes, apple chunks, walnuts & sunflower nuts. $8.25
Side Salad
Green Salad or Caesar. $3.25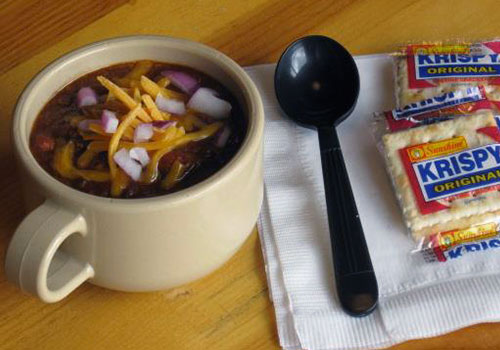 Bowl of Soup $4.09
Add Soup to any Meal $3.79
Baked Potato Soup, Tomato Basil & Daily Special:
Monday - Chicken & Wild Rice
Tuesday - Wisconsin Beer Cheese
Wednesday - Fresh Mushroom
Thursday - Chicken & Wild Rice
Friday - Clam Chowder
Saturday - Beer Cheese
Sunday - Closed
Bowl of Texas style Chili $5.09
Add Chili to any Meal $4.79
Chips $1.49
Old Dutch: Original, BBQ, Jalapeno & Cheddar, Parmesan & Garlic
Rachel's: Salt & Vinegar
Baked Lay's: Original, Sour Cream & Onion
Sun Chips: Cheddar, Garden Salsa
Doritos: Nacho Cheese
Hand Dipped Milk Shakes
Your choice of Vanilla, Chocolate, Strawberry, Raspberry, Dreamsicle, Strawberry-Banana, Oreo. $3.99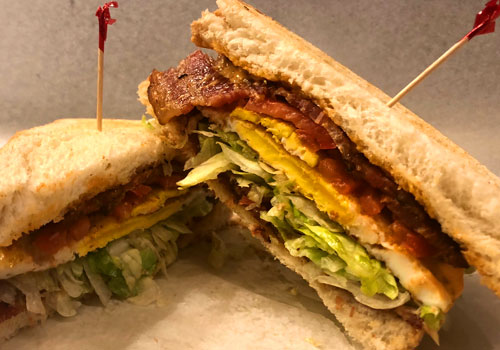 ULTIMATE BLT
This is no ordinary BLT. We start with our toasted sourdough bread, then add delicious, thick cut, Applewood smoked bacon, fresh tomatotes and lettuce. Also, with our own EGGcelent twist, we top it off with a fired egg and our homemade chipotle mayo for an extra kick.* $8.25
Fiesta BBQ Chicken Salad
Romaine & spring mix, cheddar cheese, tomatoes, onion, corn & black bean mixture, grilled chicken tossed in BBQ sauce, tortilla strips and homemade BBQ ranch dressing. $8.25
Our convenient Fax Order Form is available to download, print, fill out and fax following the instructions on the form. Email inquiries to blueoxsandwichfactory@gmail.com
Monday - Friday
11 am to 2:30 pm only
Saturday
11 am to 1 pm or by prior arrangement
PLEASE place your order by 11 am one day prior for catering orders.
Catering orders subject to service fee.