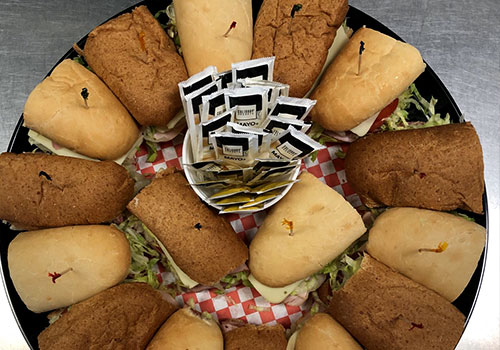 Includes 8 sandwiches cut into 16 halves. Sandwich options shown below. All sandwiches are served cold, topped with lettuce and tomato. Mayo and mustard packets included on tray. $55.99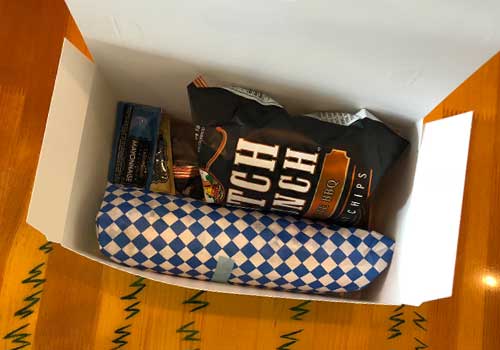 Includes choice of full sandwich, chips, and a cookie. Sandwich options shown below. All sandwiches are served cold with lettuce and tomato. Mayo and mustard packets included in box. Drinks can also be added to your box lunch!
$8.75 / $10.25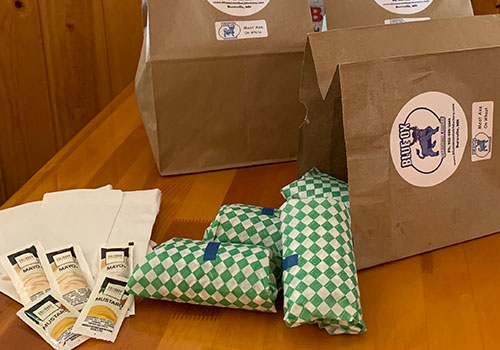 Includes choice of sandwiches wrapped and bagged by halves. Minimum of 16 halves, orders must be in even number. All sandwiches are served cold with lettuce and tomato. Mayo and mustard packets on side. Call for pricing
#1 - The Classic Italian
#2 - Turkeyville Smoker
#3 - Ham & Swiss
#4 - Meat Axe
Pasta, Potato, Green Salads
Call for Details
All Soups available with 72 hour notice. Soups are provided by the gallon or half gallon.
Hearty Chicken Noodle, Beer Cheese, Fresh Mushroom, Chicken Wild Rice, Clam Chowder, Creamy Baked Potato, Tomato Basil, Texas Style Chili
Old Dutch Original, BBQ, Jalapeño and Cheddar, Parmesan & Garlic
Sun Chips: Garden Salsa, Cheddar
Baked Lays: Original, Sour Cream & Onion
Rachel's: Salt and Vinegar
Doritos: Original
Coke, Diet Coke, Coke Zero, Cherry Coke, Pibb Xtra, Sprite, Unsweet Tea, Vitamin Water, Water,
Chocolate Chip or Peanut Butter Cookie
Rice Krispie, Peanut Butter Special K, Raspberry Chocolate Chip Oatmeal
*All Catering orders require 24 hour notice and include a service fee.
Our convenient Fax Order Form is available to download, print, fill out and fax following the instructions on the form. Email catering inquiries to blueoxcatering@gmail.com
 Monday - Friday
10 am to 2:30 pm only
Saturday
11 am to 1 pm or by prior arrangement
PLEASE place your order by 10 am one day prior to delivery or catering orders. Catering orders subject to service fee.